Randy Jedele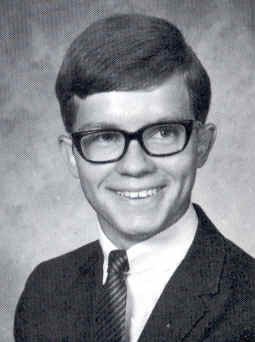 Randy Jedele died December 1, 2017 at Kavanagh House in Des Moines, from complications of metastatic prostate cancer. He was 66 years old.

Randy was born Randall Eugene Jedele on August 13, 1951, to Gordon Ralph Jedele and Darlene Joyce Jedele (née Clark) in Logan, Iowa. He lived the majority of his life in Iowa but also resided for 13 years in Kentucky, with the last 34 years spent in the Des Moines area. He was the third of four sons from his parents' marriage. Randy was preceded in death by his parents; two of his brothers (Rodney Paul Jedele and Richard Karl Jedele); and grandparents, aunts, uncles, and other relatives.

After graduating from Iowa Falls High School in 1969, he attended Wartburg College for two years. Following his time at Wartburg, Randy moved to Kentucky where he attended Western Kentucky University in Bowling Green and majored in English and education, graduating in 1973 with a BA in Education. He received his MA from Eastern Kentucky University in 1983 with emphasis in English education. Randy also attended graduate school at Iowa State University, receiving a PhD in 2007 with an emphasis in educational leadership and policy studies. He moved to Des Moines in 1983 and began working at Des Moines Area Community College in 1993 as an instructor in English before his retirement in 2017. He was popular with both his students and colleagues at DMACC. His academic career was varied, and he taught a variety of courses, as well as developing curriculum in many areas, including Holocaust literature. One of his areas of specialization in education was the concept of learning communities, the subject of his doctorate from Iowa State. Randy had a strong work ethic and always had one or two part-time jobs in addition to his full-time position at DMACC. He worked as a waiter for a number of years at 8th Street Bar and Grill, as well as at a number of other Des Moines restaurants.
Randy's church contributed many gifts to his life, perhaps the most important one bringing many close friends into his life. He will be greatly missed at Urbandale United Church of Christ where he served his church in a number of capacities, including strengthening an open and affirming atmosphere to gay and lesbian issues at the church.

Randy had many pastimes and enjoyed a wide variety of activities. His hobbies included traveling, cooking, gardening, needlepoint, cross stitch, men's sports at Iowa State and reading. His great love of reading made him a member of several book clubs over the years and later brought him a part-time job at Beaverdale Books. His love of traveling carried him across this country and Europe, including conducting tours and teaching abroad.

He is survived by his oldest brother, Robert Lewis Jedele; an aunt, Roxana Duncan in Denison; an uncle, Charles Jedele in Winfield, Kansas; and several nieces and nephews. Randy will also be missed by his dog Baxter, a wonderful companion to Randy during the last years of his life.

Randy had many friends from all areas of his life: from DMACC, from his church, from his part-time jobs, from his neighborhood in Beaverdale; and from the greater community. His many friends will miss his sense of humor, smile, love, and friendship.

Randy and his friends would like to thank the many exceptional and caring medical staff members he encountered during both his cancer treatment and end of life: from Iowa Methodist Hospital; from Cancer Center of Iowa, especially Dr. Steven Heddinger, MD and his staff; from Unity Point Hospice, especially Debbie Slaikeu, RN and her hospice team for services in his home; and from Kavanagh House during his final days. These many medical professionals all contributed to Randy's comfort and quality of life as he fought his cancer. Randy had a living memorial at his church to celebrate his life on November 17, 2017, and he requested there be no visitation or funeral. In lieu of flowers, Randy requested contributions be given to the American Cancer Society or the Urbandale United Church of Christ in his name. Memorial trees will also be planted on the DMACC campus and on Urbandale Avenue in Randy's name. Condolence cards and letters may be sent to Wes Hunsberger, 1054 45th St., Des Moines, IA 50311.

Online condolences may be expressed at www.hamiltonsfuneralhome.com.